the Lider Forum 2021 competition. Lactima is a laureate again
Lactima once again became the finalist of the dairy industry competition Lider Forum. In this, the seventeenth edition of the competition, our product – Blue Cheese spreads 150g took second place and won the second place in the "processed cheese" category. This special distinction proves that Lactima processed cheese is becoming more and more popular among both processed cheese lovers and representatives of the trade sector. We would like to thank all the buyers and store managers for their votes!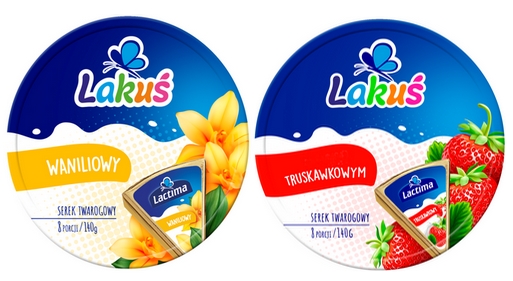 Cottage cheese
The Lactima company, by producing an innovative product, thermized fruit curd cheese, increases the range of manufactured products characterized by high biological value, containing natural bioactive ingredients positively influencing the quality of human diet.
BIT Snacks. No GMOs, no preservatives
Snack bars have been added to Lactima's offer. It is not a classic bar. It is a bakery product based on: brownie cake, carrot cake and brownie with nut cream. Thanks to the low storage temperature, the bars keep their freshness and taste longer. Perfect for dessert or as a snack between meals. They taste best when chilled, then the chocolate is crispy and the inside has the perfect texture!

Forum Leader 2020 competition
Once again, we have become the finalists of the Lider Forum competition for the dairy industry. In this edition of the LF 2020 competition for the best dairy products, Haga cream cheese took third place and was among the highest rated products by traders. We would like to thank the buyers and store managers for this award.
Processed cheese LACTOSE FREE
Classic processed cheese in convenient packaging, prepared for consumers with lactose intolerance, for whom dairy products are an important part of their daily diet. Produced from raw materials without milk sugar. Perfect for spreading on bread, as an addition to soups, sauces, dips, meats and pastas.